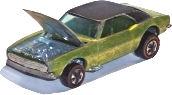 If you were born in the late 1950's or early 1960's, chances are you remember playing with die-cast vehicles like little tractors, trucks, cars and trailers -- and pretending you were running a farm or a construction site -- or "driving" the cars through make-believe towns and highways... But then, just when you thought that was all the fun you could have with little toys cars, along came HotWheels!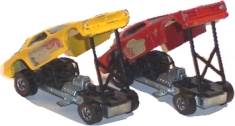 Everything changed. Instead of farms and country roads, you built racetracks and pretended you were Don "Snake" Prudhomme or Tom "Mongoose" McEwen. Toy cars no longer had to pushed around by hand, you could set up a track with jumps, banked curves, and install a Super Charger to accelerate the cars to speeds that no Matchbox, (even the "Superfast" ones), could keep up with.
More about the History of Hotwheels...
Hotwheels / Redline Glossary of Terms.
We've setup a page where you can view Hotwheels Redlines for Sale from hundreds of sellers.